Progressive
learning journey
This is the learning route our students embark on to develop a lifelong love of learning while equipping them with the fundamental skills for social, emotional, and academic success.
We aim for our students to become competent and responsible citizens who put innovative and critical thiking into practice while showing solidarity and a love of service to their community.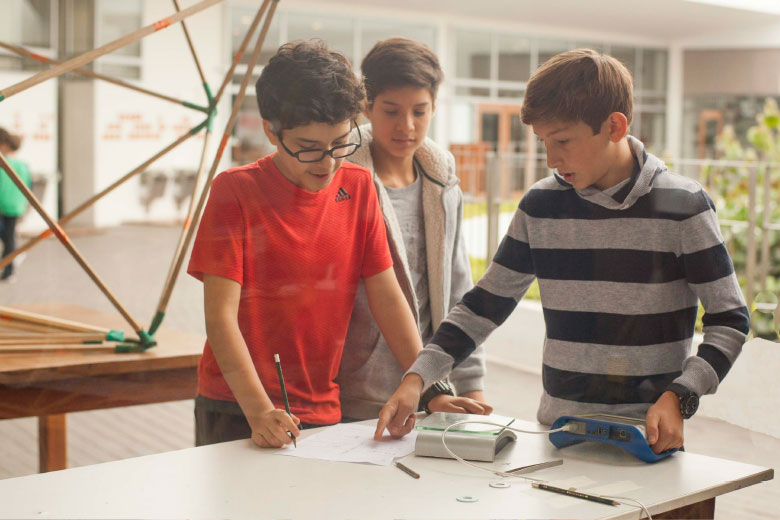 Áleph Early Years
3 year olds, Pre-Kinder and Kinder
Different learning contexts serve as inspiration for the design of our classrooms, workshops and plazas in the Early Years. This helps children interact with different academic areas with joy and a genuine curiousty for learning. The design of these spaces also aids the development of key learning skills through the use of a variety of interesting and high quality materials. During this stage of learning, our students build the following skills:
Reading and writing
They create a positive relationship with reading and writing which, in turn, becomes a solid foundation for their learning route in the first years of elementary school.

Communication skills:
Children listen, ask questions, explain, and confront ideas in order to negotiate and build on the ideas of their peers and to develop conclusions as a group.

Personal and common wellbeing:
Children create agreements that aid the construction of friendly and positive group dynamics.

Collaborative work:
Our students work as a team in an environment that supports a culture of participation and collaboration.

Creativity and expression:
Children develop their ability to express themselves while exploring their imagination through music, theater, and a wide range of workshops.

Mathematical and logical thinking:
Children develop key concepts they will need for more advanced mathematical thinking in elementary school.

Psychomotor:
Children understand their bodies and develop motor skills through psychomotor workshops.

Interdisciplinary projects:
Children learn to solve relatable issues using a wide range of perspectives while testing their critical and creative thinking skills.

Autonomy:
Children progressively develop their autonomy and organization skills to contribute to the school community.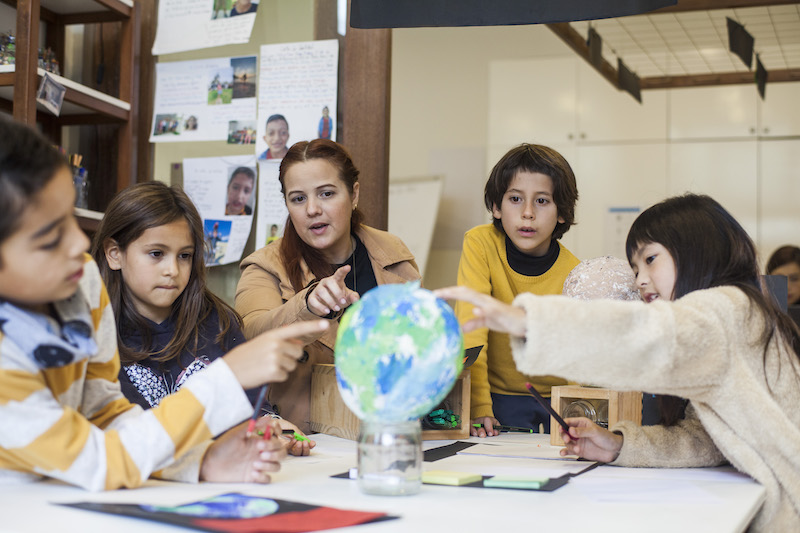 During this second stage, students at Áleph enhance their critical and creative thinking, problem-solving through collaborative work, they develop strategies for research and consolidate the mathematical and communication skills they will need in their daily their lives. During this stage of learning, our students build the following skills:

Reading and writing
Children consolidate their communication skills, using reading and writing as tools for expression, development and the construction of their arguments.

Social and natural sciences, humanities, art and culture
Students take on challenging issues and study them using a wide variety of sources, resources and instruments from diverse disciplines to then construct a critical point of view and new knowledge.

Process documentation
Children learn to record information from their research, as well as to show their findings in a clear and well-presented way.

Participation and leadership
Students develop a diverse range of styles of participation and positive leadership skills which, in turn, enrich their growth and collective thinking as a community.
Expressive skills
Students deepen their exploration of diverse expressive languages through our theater, music and circus workshops.

Physical education
Students develop their psychomotor skills and consolidate the physical foundation they will need for a broad range of sports through our physical education workshops and the use of our sporting infrastructure.

mathematics
Students consolidate their knowledge of key mathematical concepts and operations, using them to research and solve relatable and real-life challenges, while simultaneously boosting their divergent thinking skills.

Scientific method
Students approach testing and the production of knowledge in a playful and motivated way; using observation and measurement of their surrounding environment.

Reflection about the learning process
Students learn to observe how their thought process changes and how their knowledge acquisition evolves over time.

Creative risk taking
Students design pertinent solutions for the issues and problems they are investigating.

Global experiences
Students familiarize themselves with other cultures though the exchange of experiences and shared projects.
Áleph Middle School
6th Grade of Primary, 1st and 2nd year of Secondary School
The Middle School's inquiry-based curriculum enables students to use their creativity and curiosity in an active way as they dive into a variety of academic disciplines. This stage also opens up opportunities for students to broaden their knowledge of themselves, the world, and their community. We aim for students to make desitions about their learning route with autonomy and to deepen their knowledge of subjects they feel passionate about. Our studentsare introduced to formal Design Thinking and then apply it to their investigation projects. During this stage of learning, our students build the following skills: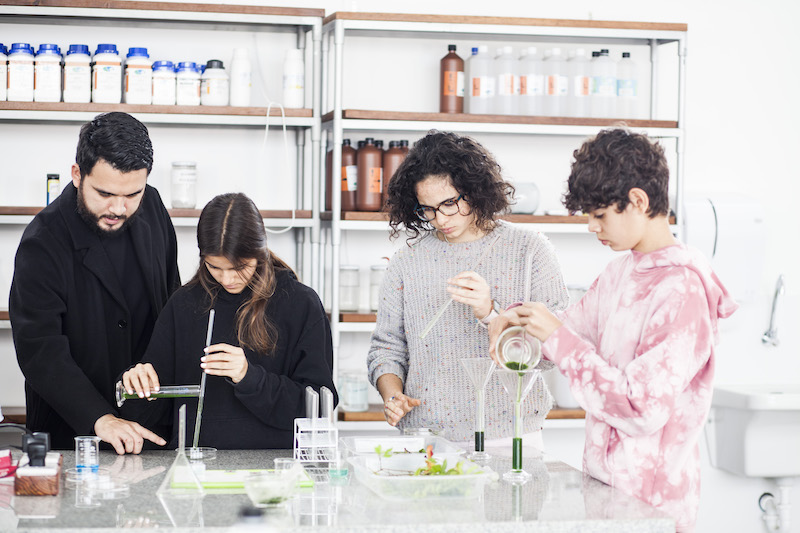 Deepening workshops
Students choose an area or discipline in which they wish to deepen their knowledge and comit to systematizing their learning.

Autonomous work
A key part of their research and/or the learning process; autonomous work is used to build mathematical and literacy skills.

Coaching/mentoring program for students
Older students guide and befriend younger children in the Early Years, thus creating circular friendships and a welcoming sense of belonging at school.

Camps, short trips and volunteering
Students participate in a broad range of activities that are proposed by the school in order to build empathy and knowledge about national and international realities.

Sports skills
Students increase their opportunities to display physical skills through P.E. workshops, extracurricular activities, and competitive sports teams.

Prototyping
Students approach real world issues through the use of research and design thinking, proposing solutions to put their ideas into action, and evaluating their results.

Self-evaluation and co-evaluation
Students are rigorous with the goals they set for themselves and use a continuous evaluation process using diverse tools. They design strategies, manage their learning process and responsabilities with autonomy. From this moment on, students are evaluated with grading. Through the use of rubrics, students learn to evaluate with the grading system. Through the use of rubrics, students learn to evaluate with the grading system.
Self-esteem
Students build a solid feeling of self-worth through an understanding and how to care for their body, sexuality, and mental health.

Organization and management of classrooms and school infrastructure
Students assume and put into practice everyday life responsibilities (cooking, cleaning, repairing, etc.).

Rigor
Students face complex problems, they research, and they construct knowledge to meet the educational proposals.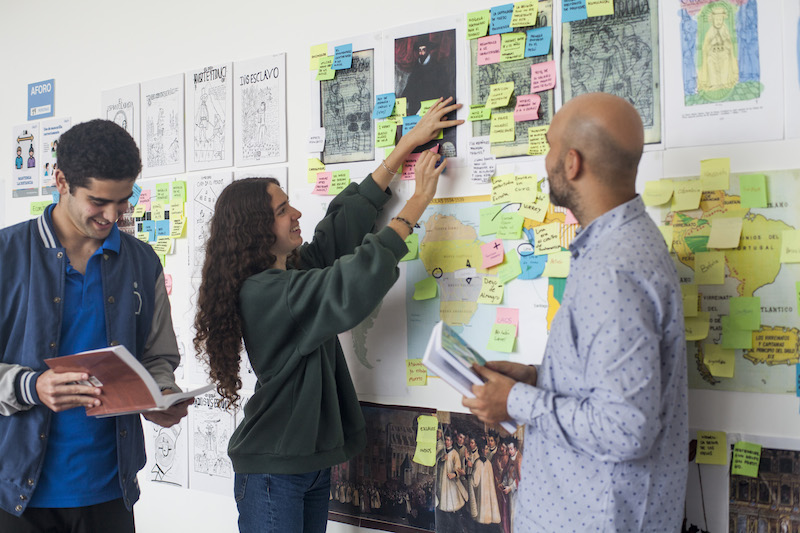 Áleph High School
3rd, 4th and 5th Secondary
In this learning stage we aim for our students to reach their maximum potential of academic growth and self knowledge. Having established a solid concept of citizenship, they now explore their future through a series of international experiences that link them to their sense of purpose, vocation, university, and the world of work. During this stage of learning, our students build the following skills:

Design of pertinent strategies, services and products
In alliance with institutions, universities, private companies and public organizations, our students contribute to solve complex problems based on Design Thinking.

International study trips
Áleph gives its students the opportunity to have experiences that confront them with challenging problems and, through the exploration of different cultures, helps them design innovative solutions.

Life purpose
Students reflect on the impact they want to have as global citizens. They create a portfolio that systematizes their research and contributes to their decision making.

Aleph Student Council
Students participate, negotiate and commit to contributing – in a positive way – to the development of the concept of citizenship, both at school, and in the wider community (social responsibility). (social responsibility).

Citizens High School Dual Diploma
Students have the option to acquire a high school diploma from The United States of America.

Exchange programs, internships and courses
Students participate in activities at companies and universities where they deepen their understanding of topics that are interesting to them and that they feel passionate about.

Hackathons or short-term challenges
Students participate in activities where they can investigate and design solutions "under pressure" to learn to manage their time and resources in a productive and efficient way.

Social-emotional skills
Students consolidate the abilities that allow them to develop and sustain healthy and respectful relationships throughout the different contexts of their lives.

"Transcript" or digital portfolio
Through the Mastery Transcript Consortium, children build rigorous and interactive evidence of the interdisciplinary skills they have developed from their personal and academic life. This gives students a solid profile that they will be able to use when applying to universities around the world.